Titch Allen - Despatch Rider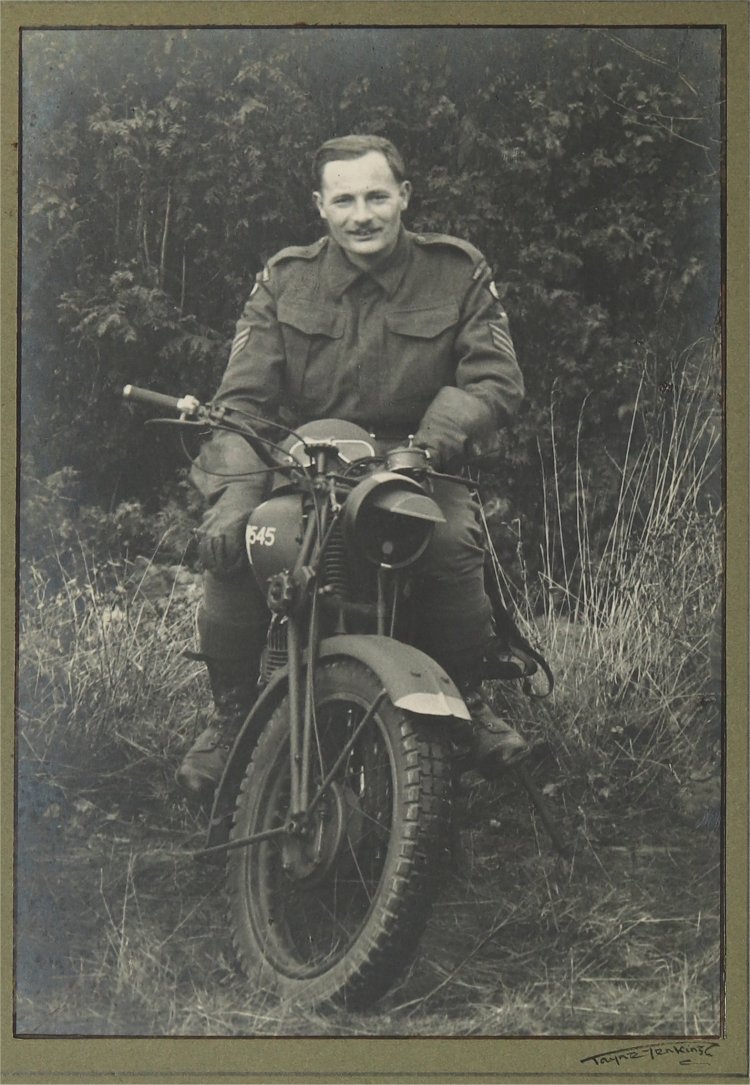 My father did not talk much about his time in the army when I was growing up, I know he was a despatch rider in the Royal Signals and attained the rank of Sergeant. The tales he did tell were mostly of his time in England before being shipped off to the continent. Like many young, keen motorcyclists he volunteered following articles in the motor cycle press (Motorcycling and The Motor Cycle). The message being that if you wanted to be a despatch rider you needed to volunteer or else you might be in the infantry. Of course, the army was not really ready for this influx of keen motorcyclists eager to be DRs, they hardly had any machines for one thing, and this was before the ignominious retreat from France and the abandonment of so much equipment at Dunkirk.
Being a proficient typist (he was a journalist before the war) Dad was assigned to the typing pool and bound to a boring desk job while the "real" DRs were off riding bikes. The winter of 1940 was particularly harsh and many of the regular army despatch riders were injured as they had never been trained to ride in snow and ice. It was not long before the 'volunteers' were called upon to fill the gaps and Dad and his friends finally got to ride.
For much of the war Dad was stationed in England and not until after D-Day did he get shipped to the continent. His time in England was spent running various errands, performing exercises (like how to make an internal combustion engine completely water tight) and often volunteering for duties that enabled him to ride a bike and hopefully get to visit his wife.
One such occasion involved a wager accepted by his CO that a DR could deliver messages to a number of depots around the country faster than the teleprinter favoured by some big wheel in Ordnance. It sounds crazy today but in fact, by riding hard through the night, Dad was able to complete the exercise in less than 48 hours (including a stop-over at home) whereas the teleprinter messages took over a week. As was so often the case, the lines were congested with normal traffic and, with no high priority, the messages had had to wait their turn at the bottom of the pile.
There are several other stories about his time in the army mentioned in his book, Titch - The Founders Tale. If you are interested to find out more about his time as a DR or indeed the rest of his fascinating life I suggest you obtain a copy and read it yourself.
Steve Allen